The annual Vivid Sydney festivities kicked off in Australia's hub of culture and entertainment last weekend. This world-renowned event focuses on art, music and innovation, but is best-known for its array of mesmerising light installations that illuminate various iconic Sydney structures, including the Harbour Bridge and Opera House.
Vivid Sydney officially ends on June 16, so you've still got plenty of time to experience its array of world-renowned musicians, artists and big thinkers. With family-focused light shows at Luna Park and Taronga Zoo, a live performance by Ice Cube and an in-depth talk by director James Cameron, Vivid Sydney's 10th anniversary is easily its best.
With more than 400 million annual visitors to HotelsCombined, we've also found the most popular hotels close to all the action at Vivid Sydney.
Vivid Sydney's Best Light Displays
Vivid Sydney's main draw is its light displays, which showcase local artists, creative thinking and family-friendly entertainment around the city. Head to The Rocks to see the Museum of Contemporary Art Australia transform under psychedelic reflections and transparencies during Virtual Vibration. Don't miss the nearby Japanese-inspired Harmony Valley installation, which features inflatable trees and a rainbow and an interactive sculpture.
Down around Darling Harbour you can witness the Fantastic Oceans water fountain, light and laser show, which creates an underwater story on Cockle Bay. Bring the kids to admire the Tumbalong Lights interactive installations, where they can play with the sea-themed displays.
Hang around to see the Lighting of the Sails, when the Sydney Opera House becomes a tapestry for Australian artist Jonathan Zawada's kinetic digital sculptures. You can also witness the entire harbour light up during the synchronised Harbour Lights display, which uses local vessels to create a unique dance of light across the water.
Want to do some shopping during the festivities? Head to the Light Market in Chatswood, where you can admire unique light displays while browsing gourmet food and handmade goods at this shanty town-inspired marketplace.
The kids will love The Spirit of Fun installation at Luna Park, which celebrates the history of the circa-1935 theme park with quirky characters and art. Don't miss seeing the Lights for the Wild at Taronga Zoo, where you can marvel at a range of giant animal light sculptures.
When you need a break from the crowds, venture in the Royal Botanic Garden to admire the flame-coloured Midnight Sun disc, which rises over Farm Cove. The nearby Aqueous display is an ever-changing landscape of interactive pathways designed for collaborative play.
Families flock to the Snugglepot & Cuddlepie show, which turns the iconic Customs House facade into a stage for an enthralling adventure with two of Australia's most beloved characters. Finally, don't miss the dazzling Skylark display, a custom-built laser show encompassing the Sydney Harbour Bridge, Circular Quay and Sydney Harbour.
Vivid Sydney's Best Music Performances
In its 10th year, Vivid Sydney is welcoming arguably its biggest range of international and local music acts. Although American rapper, Ice Cube played his last show at the Opera House on Monday night, there are still plenty of high-quality artists to see.
Crowded House creator, Neil Finn, will take to the Opera House stage for a two-night performance with a full band and orchestra. Later in June, psychedelic California band, Mazzy Star, will bring its emotive music to the Opera House. Head to the Opera House at the start of June to catch R&B singer, Solange Knowles, during her only Australian show.
Don't miss seeing Grammy award-winning artist, St Vincent, during her only performance at Carriageworks. You can also watch the local Sydney trio, Roadhouses, while they play creative and romantic songs at the Golden Age Cinema & Bar.
Want to see more Aussie musicians? Visit the Art Gallery of New South Wales to watch Haiku Hands, a talented band combining pop music with finessed choreography. GOLDHEIST is also playing at the art gallery, teaming up with Auslan interpreters to present her stories and songs to hearing-impaired spectators.
If you want to experience Sydney's late-night entertainment, check out some of the DJ parties and after-dark events happening during Vivid Sydney, such as Freda's X Vivid Sydney, set in a 100-year-old warehouse. Check out Curve Ball at Carriageworks to see dance music acts and artists during immersive visual and sound shows.
There's also a fancy-dress ball being held at the Sydney Town Hall, called Heaps Gay Qweens Ball, where you can dress up in op shop clothing and see musical acts. Want something more laid-back? Relax with a cocktail while listening to jazz music in a lounge bar at the Feel Good Jazz Session.
Vivid Sydney's Best Ideas Talks
Since the first-ever Vivid Sydney back in 2008, the annual festival has quickly garnered a reputation as a stage for some of the world's forward thinkers and creative professionals. This year the talks and workshops feature world-renowned director James Cameron and two well-established game developers. The latter are Jane McGonigal and Kriti Sharma, who'll teach you about future thinking, artificial intelligence and society during an in-depth Game Changer talk.
Want to challenge your perspective? Attend the How Will You Live Your Hundred Year Life? talk at Barangaroo to discover how industry experts expect organisations and humans to succeed in the future. The regular Enlightenment Feasts are a great way to combine open thinking with socialising and excellent food.
If you're interested in films and filmmaking, check out the Sydney Film Festival to catch the latest films. Passionate designers, meanwhile, can collaborate with an expert panel during the Designing With – People Powered Social Change talk.
Don't miss the range of creative workshops during Vivid Sydney, from the Masterclass in Web Series Creation panel to the Workshop Fashtech, where you learn how to combine technology and fashion. If you've got some creative kids, take them along to the Creative Thinking & Inventing for Kids workshop.
Combine music with technology at The VR Music Festival Experience, where you use an HTC Vive headset to transport yourself to a music concert with music, sound effects, 3D animation and motion capture. You can also be a part of a live experiment on data and our lives during Data Futures.
3 Most-Popular Hotels for Vivid Sydney 2018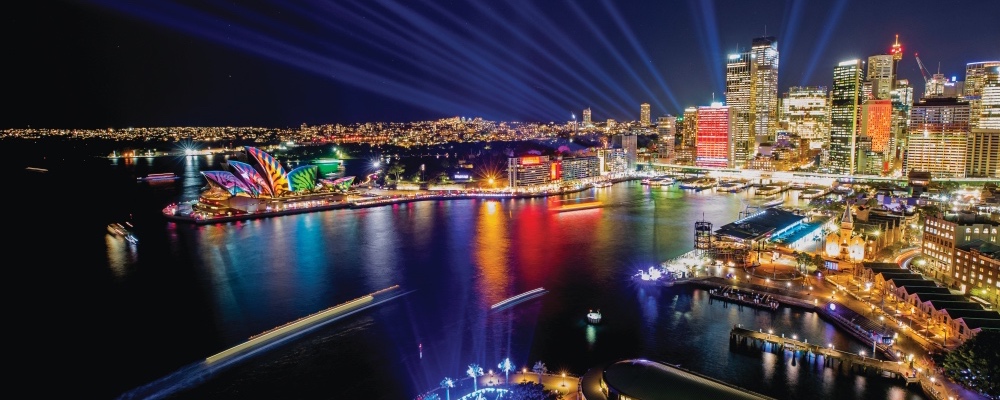 Luxury
Pullman Quay Grand Sydney Harbour
The five-star Pullman Quay Grand Sydney Harbour occupies a prime location near Circular Quay, the Royal Botanic Gardens and Sydney Opera House. The stylish one and two-bedroom suites feature either Botanic Gardens or Sydney Harbour views, along with king-size beds, spa baths and private balconies.
Enjoy gourmet dining on site at the harbour Q Dining, which pairs delicious Australian fare with water vistas, then grab a drink at the Cuban-inspired Hacienda Sydney bar. Save time for some recreation at the hotel's sun-drenched deck, which has a pool, spa and gym with Circular Quay views. 
Star Rating: 5*
Price: AUD 308 – AUD 2,424
Guest Rating: 9.2
Address: 61 Macquarie Street East Circular Quay, Sydney CBD, Sydney, Australia
Mid-Range
Ibis Sydney Darling Harbour is renowned for its value-for-money accommodation, which ranges from the Standard Room with Pyrmont views to the Superior Room with Darling Harbour views. All room options feature signature ibis bedding, complimentary Wi-Fi, LCD TVs and blackout blinds.
The on-site Ibis Kitchen serves up a delicious buffet breakfast and daily dinner specials, while Ibar is the perfect spot for a drink while soaking up Darling Harbour views. Venture outside to admire light installations around the harbour and explore iconic Sydney attractions, including the Australian National Maritime Museum.
Star Rating: 3.5*
Price: AUD 132 – AUD 680
Guest Rating: 7.7
Address: 70 Murray Street Darling Harbour, Sydney CBD, Sydney, Australia
Budget
Budget-savvy travellers and those seeking a social environment can stay at Base Backpackers Hostel Sydney, which offers multi-bed dorm rooms and private double rooms with ensuites. The popular hostel also offers a range of modern conveniences, such as a fully-equipped communal kitchen, TV lounge and tour desk.
Grab breakfast for under $10 before heading out for sightseeing, then mingle with like-minded travellers in the on-site Scary Canary bar. You're a short walk from numerous Sydney bars and restaurants, along with the Sydney Town Hall and Golden Age Cinema & Bar. 
Star Rating: 2*
Price: AUD 28 – AUD 123
Guest Rating: 6.8
Address: 477 Kent Street, Sydney CBD, Sydney, Australia
Hotel Location
Getting Around During Vivid Sydney 2018
There are regular road closures around certain precincts during Vivid Sydney, so trains and water taxis are often the best means of transport. You'll need an Opal card to use the city's public transport and can expect a short walk from the train stations and ferry terminals to the Vivid Sydney precincts. Weeknights are usually the best time to check out the light displays, with busier crowds on weekends.
Feature Image: Destination NSW