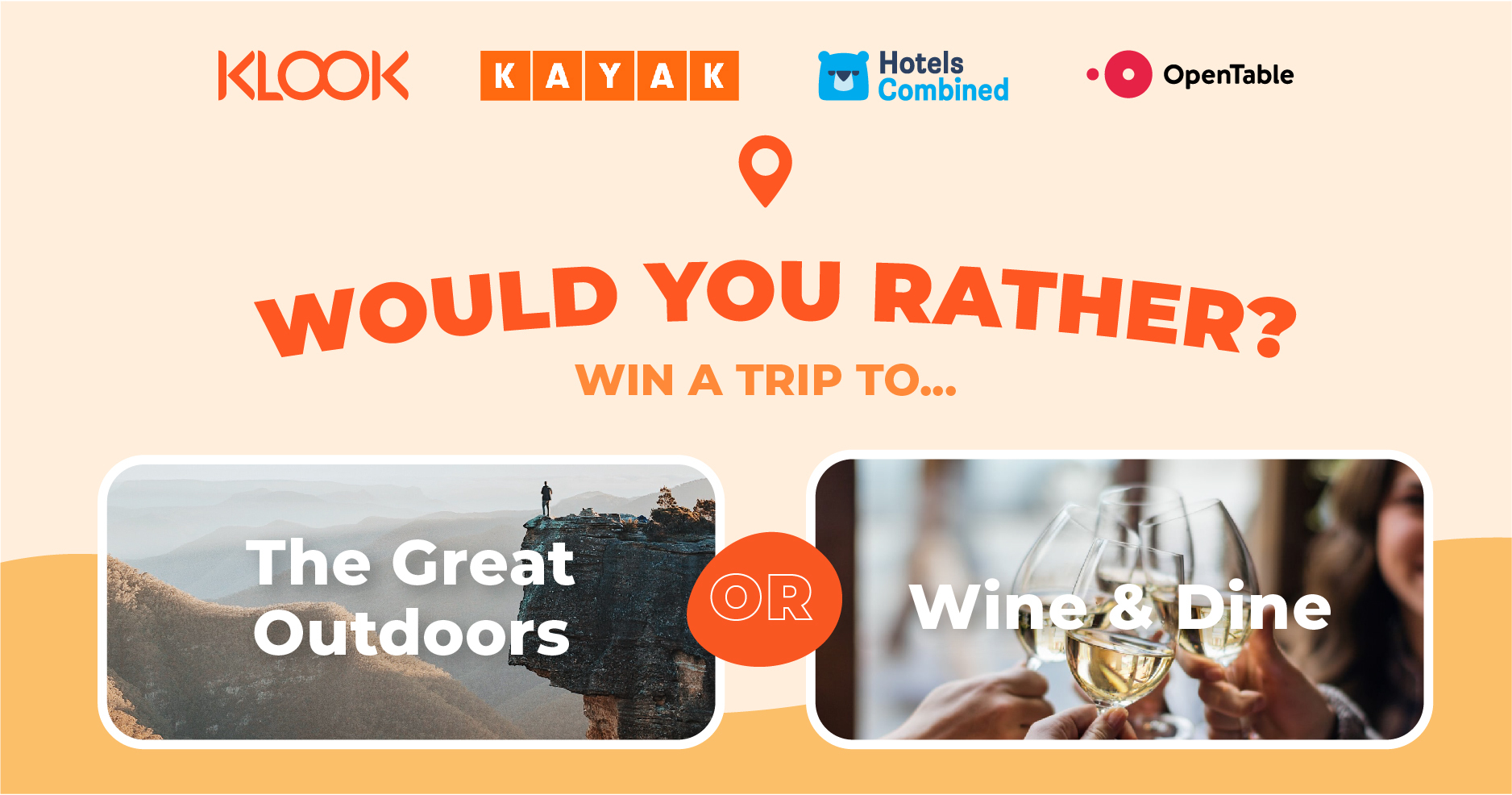 In need of a bit of an escape in your own city? A staycation, if you will?
Well, lucky for you – HotelsCombined, KAYAK, Klook and OpenTable have teamed up to bring you – The Ultimate Eat, Stay, Play Giveaway! We'll cover everything you need for a relaxing staycation in your very own backyard – from your meals, accommodation and activities to help you live it up locally!
If this sounds like just the thing you need, and you want to stand a chance to win this giveaway for you and your plus one – all you need to do is answer 'Would you rather see The Great Outdoors or Wine and Dine in your backyard'? Competition closes 31st October 2020 so make sure you're in it to win it.
There will be TWO winners per state, with a total of 12 winners! – one will win the 'Great Outdoors' package, the other will win the 'Wine & Dine' package (please note: residents of the ACT will be eligible for the prizes offered in NSW, and residents of the Northern Territory will not be eligible to participate in the competition*).
Curious to know what's in each of these packages? Read on:
1. New South Wales/ACT
WINE & DINE
EAT – Circa 1876 at the Convent
STAY – Voco Kirkton Park Hunter Valley
PLAY – Audrey Wilkinson Tour
Experience the ultimate Hunter Valley romantic rendezvous for two – dine at the Hunter Valley's most iconic restaurant, located in an historic cottage on the picturesque grounds of Roscrea Estate. Circa 1876 showcases some great Hunter Valley wines in an award-winning wine list and quite literally brings the 'farm to fork' ethos to life as guests will dine overlooking the organic garden that their food came from.
After a quick post-lunch nap, head to a 'Fortified and Fromage' barrel and cheese tasting at Audrey Wilkinson winery, a  truly unique and memorable experience for discerning wine and food connoisseurs. Finally, 'wine' down at Voco Kirkton Park – located in the heart of Hunter Valley, Pokolbin.
GREAT OUTDOORS
EAT – The Wintergarden at Hydro Majestic Blue Mountains
STAY –  Parklands Country Gardens and Lodges
PLAY – Blue Mountains Scenic World Pass with Explorer Bus
See the best of the Blue Mountains with the Scenic World Pass – easily hop on and off at popular Blue Mountain spots and explore as you like. No need to worry about directions or parking – you'll be well looked after. This pass also includes the railway, skyway and cableway rides – so ride away!
The Wintergarden at the iconic Hydro Majestic located in Medlow Bath is a spectacular light-filled restaurant with grandstanding views of the picturesque Megalong Valley. It is seriously impressive – like 'numerous marriage proposals take place here' impressive. The Wintergarden offers a premium Afternoon High Tea service and A La Carte dinner menu showcasing the best of Blue Mountains' local & regional produce.
The 'Great Outdoors' package is also inclusive of a luxury retreat at Parklands Country Gardens and Lodges, which is only a short walk from Blackheath Railway Station. Blackheath itself is a charming little village, so you'll enjoy being able to wander this picturesque area. Don't forget to visit the Bakehouse on Wentworth while you're there – just follow your nose.
Hey NSW/ACT – Would You Rather Wine & Dine or The Great Outdoors? Enter Here!
2. Queensland
WINE & DINE
EAT – Popolo 
STAY – Evolution Apartments
PLAY – City Winery Tour and Wine Tasting
Kick off your QLD holiday with a tour to City Winery to experience wine tasting right in the heart of Brissy! Here, you can try 6 artisan-made Gerler wines, and even meet the winemaker!
Next stop on the agenda is nestled into Brisbane's iconic River Quay. Popolo Italian Bar & Kitchen boasts South Bank's most authentic Italian feasting experience on the banks of the sparkling Brisbane River. Perfect for intimate meals with friends or elegant functions with a twist, sit back, relax and share in the ultimate dining indulgence at Popolo.
After all that delicious food, head back for a stay at Evolution Apartments – centrally located in Brisbane, within a 10-minute walk of Queen Street Mall and South Bank Parklands.
GREAT OUTDOORS
EAT – Hideaway Kitchen and Bar
STAY – Sky Broadwater Apartments
PLAY – Jet Ski in Gold Coast
If you've always wanted to get on a jet ski, now's your chance for that thrill! Go full throttle as you zoom through the only purpose-built circuit on the Gold Coast onboard Yamaha's most technologically advanced jet skis.
After all that adventure, fuel up at Hideaway Kitchen & Bar in Broadbeach with some Asian street food. It is as delicious as it sounds – think dumplings, bao and karaage chicken. Drool.
Rest and relax afterwards at Sky Broadwater Apartments in Southport, where you'll be only a minute drive from the beautiful Broadwater Parklands and 7 minutes from Surfers Paradise Beach, talk about convenient!
Hey QLD – Would You Rather Wine & Dine or The Great Outdoors? Enter Here!
3. Victoria
WINE & DINE
EAT – Innocent Bystander
STAY – Citadines on Bourke
PLAY – Yarra Valley Wine Tour
Start your wine and dine escapade at Innocent Bystander for some delicious wine, great pizza and tasty paella, or enjoy a non-wine option such as the IB Cider and Melbourne coffee around a share board. It's all good here!
This Wine & Dine package would not be complete without a trip to Yarra Valley – this tour checks out a mix of wineries and farm stores selling their latest harvests and produce. Your taste buds will be getting quite the treat from tasting seasonal fresh fruit and juices at Yarra Farm Fresh, to several world-class wineries as well as handcrafted chocolate at the Yarra Valley Chocolaterie.
Too full for anything else? That's alright, you can then be kick back and relax at Citadines on Bourke (and possibly order room service, hehe!). It's a staycation, after all.
GREAT OUTDOORS
EAT – Red Gum BBQ – Mornington Peninsula
STAY – Space Hotel
PLAY –  Mornington Peninsula Hiking Adventure & 12 Apostles, Otways, & Great Ocean Road Hiking Adventure & Phillip Island Nature Parks Penguin Parade Viewing Ticket and Attraction Pass
This Great Outdoor package includes up to four activities! Wow, you will be busy! From hiking adventures on the Mornington Peninsula AND the Great Ocean Road, to a little trip to Phillip Island to pay the penguins a visit – you're going to need the energy!
Fuel up at Red Gum BBQ, where they use traditional methods of cooking Southern BBQ at low heat over many hours. The pit master, Martin uses native woods to flavour the meat so you can bet that you'll be getting an authentic experience here.
After all that adventure, your head will be in a need of a pillow STAT. With a stay at Space Hotel, you'll be centrally located in Melbourne, steps from Old Melbourne Gaol and only 8 minutes by foot from Melbourne Central, but we all know you'll just be snoozing.
Hey VIC – Would You Rather Wine & Dine or The Great Outdoors? Enter Here!
4. South Australia
WINE & DINE
EAT – Shobosho
STAY – Adina Apartment Hotel Adelaide Treasury
PLAY – Penfolds Iconic Experience Tour from Adelaide & Barossa Food and Wine Tour from Adelaide
At Shobosho, they blend smoke, steam and fire in their cooking to bring the ancient tradition of Japanese yakitori to you- so you know you'll be in for a treat! If you're the lucky winner, you'll get to do two activities in this package, which will be the – Penfolds Iconic Experience Tour and also the Barossa Food and Wine Tour. Lucky you!
The Penfolds Tour is truly an epic one – with the opportunity to visit THE Grange Cottage, where you'll view the treasure trove of wines in the vintage cellar, as well as experience the underground drives and even the original hiding spot of Max Schubert's hidden Grange. To top it all off, a three course lunch is included in one of the Estate's private rooms with three Penfolds wines to match.
As if one wine tour is not enough, we're also throwing in the Barossa Food and Wine Tour – where you'll embark on an adventure of gastronomic proportions in South Australia's premium wine region!
After that wine and dine adventure, you can rest easy at Adina Apartment Hotel Adelaide Treasury – steps from Adelaide Town Hall and within a 5-minute walk of Victoria Square. This hotel is a beauty and has a pretty interesting history too. Did you know The Beatles used this hotel's underground tunnels to escape the waiting crowds!? Fun fact for you.
GREAT OUTDOORS
EAT – Melt Henley
STAY – Adina Apartment Hotel Adelaide Treasury
PLAY – Kangaroo Island Wildlife Discovery Day Tour from Adelaide & Adelaide Oval RoofClimb Twilight Experience
Any great outdoor adventure needs to begin with some sustenance, in this case – from Melt Henly, a vibrant seaside tapas and pizzeria restaurant located in a prime viewing location of one of South Australia's most popular coastlines!
This trip will be packed with adventure – from exploring Kangaroo Island and getting up close with the wildlife, to then taking it up high with an Adelaide Oval Roof Climb Experience at twilight to catch the city in the best light.
Rest up and recharge at Adina Apartment Hotel Adelaide Treasury – steps from Adelaide Town Hall and within a 5-minute walk of Victoria Square. If you've still got energy to burn, jump on the tram out front and visit the seaside village of Glenelg.
Hey SA – Would You Rather Wine & Dine or The Great Outdoors? Enter Here!
5. Western Australia
WINE & DINE
EAT – The Meat & Wine Co
STAY – Crowne Plaza Perth
PLAY – Perth Voyager Estate Winery Tour with Discovery Menu Lunch Experience & Wild Seafood Experience – 5 Course Cruise
This isn't just any other Meat & Wine Co – built in 1897 during the Western Australia gold rush, this heritage-listed three-storey building features warm wooden accents and velvet detailing, and is specially designed to complement the old-world charm and nostalgia of this landmark building.
Enough about the decor, you want to hear more about the wining and dining, right? Activities in this package include the Perth Voyager Estate Winery Tour, where you'll get the chance to roam around the impressive vineyards and learn about winemaking. You'll also experience a wild seafood experience aboard a ship – help pull up the traps, feel and size the crays, learn about Western Rock Lobsters' habits and then cook up an epic banquet centred around your fresh catch!
End the day with a full tummy at Perth's best hotel with balcony views of the Swan River – Crowne Plaza® Perth.
GREAT OUTDOORS
EAT – Gusti Restaurant & Bar
STAY – Rendezvous Hotel Perth Scarborough
PLAY – Perth Highlights Bike Loop Tour & Rottnest Island Ferry
Located at the front of Crowne® Plaza Perth, Gusti boasts enviable views of the Swan River and a sumptuous modern Australian menu.  You'll be spoilt for choice!
In this Great Outdoor package, you'll be able to discover Perth and its historic landmarks and scenic landscapes on an exciting 16km bike tour around the city. You'll also head over to Rottnest Island by ferry (yay!) where you'll explore many secluded bays and beaches on the island as you bike along the coast and go snorkelling!
Lay your head after all that adventure at the impressive Rendezvous Hotel located right by Scarborough Beach. This hotel's view is sublime. Watch the sunset over the ocean from your balcony, glass of wine in hand. Bliss.
Hey WA- Would You Rather Wine & Dine or The Great Outdoors? Enter Here!
6. Tasmania
WINE & DINE
EAT – Frogmore Creek
STAY – Hadley's Orient Hotel
PLAY – Bruny Island Cruises
Start this epic wine & dine prize by enjoying a collection of dishes from the land, sea and garden, a tribute to the beautiful produce of Tasmania at Frogmore Creek.
Then, head out to Bruny Island where you'll hop aboard a cruise travelling alongside towering cliffs and see the stunning Breathing Rock up close. You may even catch a glimpse of wildlife like seals, whales, sea eagles and dolphins if you're lucky!
Once back in Hobart, head to Hadley's Orient Hotel, located in the heart of Hobart's entertainment district with restaurants, cafés and nightlife on the doorstep, so you can see the best of Hobart conveniently!
GREAT OUTDOORS
EAT – Phat Fish
STAY – The Old Woolstore Apartment Hotel
PLAY – Hobart City Scenic Aeroplane Flight Experience
Phat Fish Salamanca has a brilliantly curated menu that features classic comforts such as fish and chips, and Tasmanian scallops and chips, but also plenty of items you will be less likely to find elsewhere – they only use only fresh, line-caught fish in their fish and chips and source produce from local areas.
Looking for a spectacular way to see the city of Hobart in the shortest possible time? You've got it! In just 30 minutes you'll get to see the whole city from the air, admire its main attractions and take stunning photos! Depart from Cambridge and fly over the Eastern Shore and the Derwent River. Move up the river to see the world-class MONA (The Museum of Old and New Art) and the northern suburbs then finally, soar above the iconic Mount Wellington – 1270 meters in height!
The Great Outdoors package also includes a stay at The Old Woolstore Apartment Hotel – located in the heart of Hobart, within a 5-minute walk of Franklin Wharf and Constitution Dock.
Hey TAS – Would You Rather Wine & Dine or The Great Outdoors? Enter Here!
Terms & Conditions
*Participants must be 18 years or older in order to enter the competition. Residents of NT are not eligible to enter. Klook is the organiser and promoter of the Competition and KAYAK, HotelsCombined and OpenTable are providing the prizes. KAYAK, HotelsCombined and OpenTable expressly exclude any liability in relation to the running of the competition.