So you've booked your tickets to Bali Indonesia, awesome! But still unsure where exactly to go? No worries! We got you covered! We're here to share an in-depth guide with useful information about best places to stay in Bali Indonesia and things to do on this island paradise.
East Bali Indonesia: Discover Local Life, Arts and Culture
Experience local Balinese culture by browsing some of Indonesia's best markets and temples. The intricate details of Bali's temple architecture is one of the best things to see in Bali. Gaze up at Pura Besakih, one of the largest and holiest temples in Bali Indonesia.
Be in awe of Tanah Lot Temple. Built on huge offshore rocks, it provides the perfect sunset photo opportunity. To see a unique Bali landmark, visit Pura Goa Lawah Temple. Its main hall is built into a cave and is home to hundreds of bats.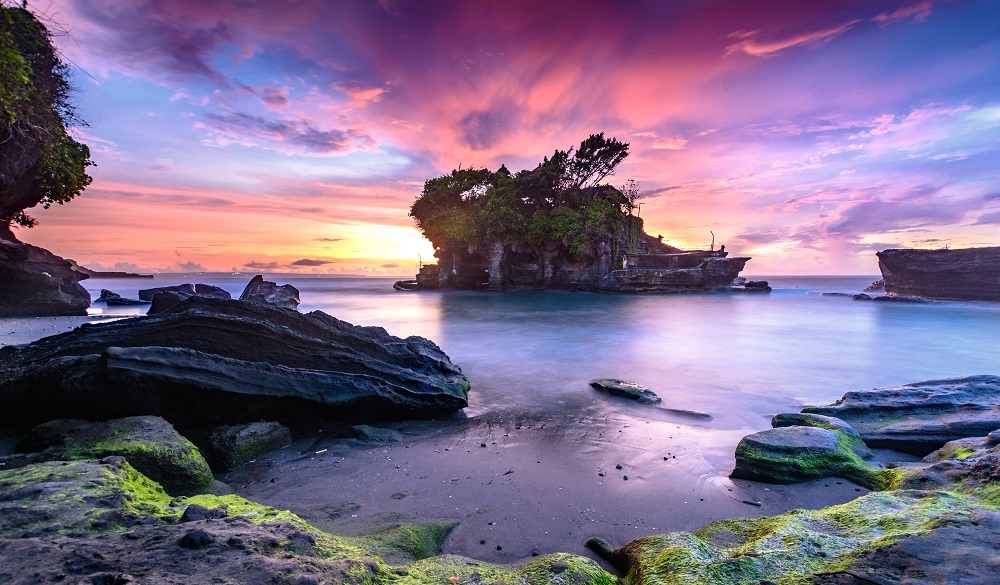 Photo| Tanah Lot|GETTYIMAGES – RAUNG BINAIASpend at least one lazy afternoon walking through a market to see the day-to-day activities of the local Balinese, such as the Bedugul Market where you can pick up traditional spices and fresh fruits. To discover a treasure trove of arts and culture, tour east Bali.
Explore the Kertha Gosa Pavilion at Klungkung Palace to see a pavilion rich with artwork that symbolises the afterlife and boasts depictions of Balinese epics, myths and legends.
With exciting wildlife adventures, vibrant arts and culture, and plenty of opportunities for relaxation, Bali has something for everyone. Whether you're travelling solo, with your partner or with your family, Bali is home to alluring landscapes, cultural attractions and historic landmarks to suit everyone's tastes.
Search for hotels in East Bali Indonesia on HotelsCombined
Seminyak
Bali is known for its stunning beaches, lush wilderness and incredible cultural sights. With all the exploring you'll do, it's essential to come home to a tranquil escape. With an abundance of secluded villas, serene beaches and spa retreats, Seminyak is the perfect place to stay for couples. If you're headed to Bali Indonesia on your honeymoon, make a beeline for Seminyak. It's a great place to unwind after a hectic wedding with its chilled-out atmosphere.
Many villas in Seminyak have multiple rooms and private pools, making it also perfect for families. With its bustling nightlife and various art galleries, Seminyak provides fun attractions for the solo traveller as well. Cosy guest rooms and fine dining options will be much needed after a day of trekking around the jungles of Bali Indonesia.
We have put together a list of recommended places to stay in Seminyak, check it out.
Now that you know where to stay, it's time to figure out your itinerary. Fortunately, it's easy to travel from Seminyak to Bali's top destinations for various day trip excursions.
Search for hotels in Seminyak on HotelsCombined
Ubud – Jungle Adventure
If you're a thrill-seeker, Bali has a ton of adventurous things to do. We suggest making your way to Ubud for some outdoor action. Ubud is surrounded by small villages and made up of rice paddies and dense forests. You can experience exhilarating white-water rafting on the Ayung River or get your heart racing on a zipline as you soar above the jungle.
If you're looking to discover some of Bali's hidden gems, head off the beaten path and jump on an off-road four-wheeler buggy for a tour.
One of the most popular things to do in Ubud is to visit the Ubud Monkey Forest, where you can hike through the park and see playful monkeys hanging out in the towering trees.
Search for hotels in Ubud on HotelsCombined
Lembongan Island
One of the most popular things to do in Bali Indonesia is to visit the beach for watersports. You only need to take a quick search of Bali's beaches on Instagram to get a major case of wanderlust. Especially on Lembongan Island.
A go-to spot for beach-related activities, Lembongan Island, also known as "Nusa Lembongan", is part of three islands that make up the Nusa Penida district. Sitting south-east of Bali, it's an easy day trip from Seminyak and the perfect place to try out snorkelling, scuba diving or kayaking. You can witness stunning coral reefs under the crystal-clear waters, board a luxury catamaran to take in the views or visit beaches like Dream Beach to soak up the sunshine while lying on the golden sand.
Search for hotels in Nusa Lembongan on HotelsCombined
Read more articles on HotelsCombined about Bali Indonesia: